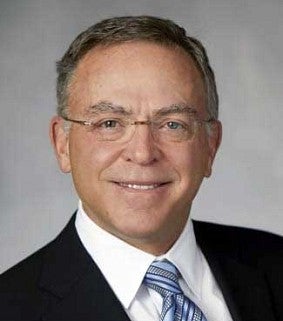 Steven A. (Steve) Raymund is the founder of Tech Data, a Florida-based company that ranks No. 108 on the Fortune 500.
Within 15 years of taking over the company, Raymund was welcomed into an elite industry hall of fame that includes Bill Gates and Steve Jobs.
Raymund was recently appointed as chair of the UO Foundation and is proud of the opportunities the university gave him to become an engaging and well-rounded scholar.
Raymund served as the chief executive officer of Tech Data Corporation from January 1986 to October 2, a Fortune 107 distributor of high-tech products from leading suppliers such as HP, Cisco, and Apple, with operations worldwide.
A 1978 UO economics graduate, Raymund earned a master's degree from the Georgetown University Edmund A. Walsh School of Foreign Service.
Raymund was also chairman of Tech Data's board, a position in which he served for 26 years. He spent 20 years as the company's CEO. He retired in June 2017. During his tenure, Tech Data's revenues grew from $2 million in 1981 to some $21 billion in 2006.
The Raymund Fellowship began in fall 2017 following a significant gift by Raymund to create the doctoral fellowship program and support initiatives to further the university's overall excellence.
The fellowship supports students across many of the academic disciplines at UO, allowing them to focus on their fields and fill critical roles in furthering research at the university.
Raymund continues to be closely involved in the fellowship program, regularly meeting with fellows and serving as chairman of the board of trustees of the University of Oregon Foundation.
Raymund divides his time between St. Pete Beach, Florida and Telluride, Colorado.