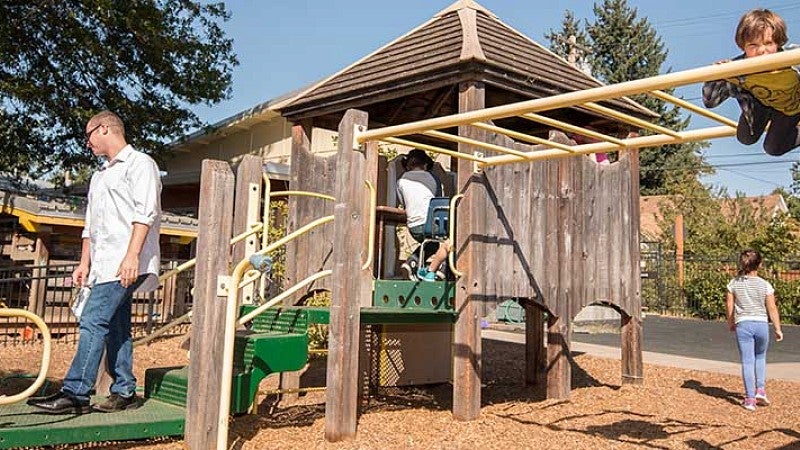 Graduate students with families face additional challenges related to their caretaking role.
Best practices for supporting graduate students with families focus on a recognized point of first contact that acts as a conduit through which information about various means of support for caretakers can flow.
Referrals to resources include financial support (ongoing and emergency), family healthcare, and support for new parents as well as those with older children or parental care obligations.
Resources are grouped in the following categories:
Childcare • Primary and Secondary Education • Lactation Support • Funding and Financial Assistance • Events, Museums, and Programs • Housing • UO Medical and Insurance • Mental Health, Parental and Child Support
---
Graduate Family Support
Have questions? Email the Grad Families GE with any questions related to graduate family issues.
Get emailed support: Automatically receive bi-monthly updates on resources, free events, and support by signing up for the Grad Families Listserv.
---
Childcare Resources
ASUO Childcare Subsidy – An incidental-fee-funded program that reimburses 20-50% of the cost of childcare expenses for student parents.
Co-Op Family Center – An independent, nonprofit co-operative childcare center for children aged eight weeks to 10 years. Student families receive priority and a tuition discount.
Moss Street Children's Center – Childcare center run though Erb Memorial Student Union serves children aged three months through third grade. Student families receive priority and a tuition discount.
Vivian Olum Child Development Center – Childcare center run through Human Resources, offers faculty and staff families priority, but serves some student families and offers a tuition discount to all UO-affiliated families. Serves children aged eight weeks through fifth grade.
Community Childcare Providers – Search 211 info for area childcare providers. You can also get help connecting with community resources such as legal assistance, renter resources, food security, veterans' issues, energy assistance, and more.
 
---
Primary and Secondary Education Public Schools: The Eugene (4J), Bethel, and Springfield school districts accept student neighborhood enrollment at any time of the school year. Most incoming grad students with school-aged children live in the Eugene (4J) school district, but you should confirm your school district here.
District guides for international students:
Alternative and Charter Schools: There are a variety of alternative and charter school options in Eugene, as well as an online school. Lotteries for alternative and charter schools are held in the Spring, but occasionally there are still openings in the Fall or during the school year.
Immunizations: Specific immunizations are required to enroll in Oregon's schools. 4J has an excellent guide.
---
Lactation Support
Lactation Support Resources – Dedicated campus spaces and refrigeration capacity for parents to nurse and/or express milk. Interested parents should contact Human Resources at 541-346-2195.
---
Funding and Financial Assistance
Graduate Student Assistance Fund – Financial assistance for graduate students with a new child, childcare expenses for a new child, a medical issue, or another qualifying event. Applications must be made no later than ninety (90) days after the qualifying event.
Jesse M Bell Graduate Loan and Fund – A short-term loan available to graduate students of high academic standing to be used in the pursuit of their graduate studies at the UO. Loans are also available for GEs who anticipate being paid late.
---
Events, Museums, and Programs
UO Events Calendar – Filter by "Family Friendly" events and hide "Recurring Events" to see one-day events.
UO Families Listserv – Subscribed email list for the UO community, providing information about work-life resources and family-related events and programs. To be added to the listserv, visit the subscription management page or email to Jen Mirabile.
Youth/Family Recreation Program – Spend active time with your family at the UO Rec Center.
ASUO Spouse/Domestic Partner/Children Card (C-CARD) – Discounted access to UO events and other services. Call 541-346-3724.
Suzuki Strings Program – High-quality violin, viola, and cello instruction for kids aged four and up, offered through the UO Community Music Institute.
Ducks After Dark – Free movies on campus. (Check individual films to determine whether or not they are appropriate for your family)
Jordan Schnitzer Museum of Art – Located on campus, JSMA offers an active program for kids and families including camps, performances, family days, and tours.
Museum of Natural and Cultural History – Located on campus, the museum offers seasonal and year-round programs for families, including partnering with the Division of Graduate Studies for a Night at The Museum event every October.
Many Nations Longhouse – Located on campus, the Many Nations Longhouse is a place of community, welcome, peace, harmony, and cultural exchange that sponsors several family-friendly events throughout the year.
SAIL Program – Offers free, one-week summer programs on the University of Oregon campus for middle and high schoolers. Subjects vary. Sessions are included in the college admissions process, scholarship availability, and the financial aid process.
Summer Camps at the University of Oregon – A variety of UO-sponsored camps ranging from sports to music, design, science, and more.
Lane Kids – Bilingual website (English and Spanish) for parenting classes, kid-friendly activities, area events, and parenting blogs.
---
Housing
UO Campus Family Housing - Check out your options when it comes to living with your family on campus.
UO Apartments and Family Housing Facebook Group
---
UO Medical and Insurance Resources
GTFF – If you are a graduate employee (GE) and choose to be a union member, contact the GTFF (Graduate Teaching Fellows Federation) for information regarding health insurance for you and your family.
Student Insurance – Additional insurance options for graduate students.
---
Mental Health, Parental and Child Support
Counseling Center – Check out the variety of services including individual and group therapy, crisis support, consultation, and community referrals based out of the University Health, Counseling, and Testing Center building.
HEDCO Clinic – Based in the College of Education, they offer assessment and treatment for behavioral health concerns, including dyslexia, learning disabilities, autism, ADHD, reading and math intervention, stuttering, and speech therapy, to you and your family.
Team Duckling – Developmental scientists who engage children and family participants in studies and research. Studies typically provide compensation for participation.
The Child Center – Support and help for children who are experiencing a mental health crisis and their parents.
University of Oregon Psychology Clinic – Based in the UO Clinical Psychology Program, they offer low-cost, high quality, evidence-based psychotherapy, and psychological assessment services for adults and adolescents (14 or older) from the Eugene-Springfield area.
Women's Center – Located on campus, the UO Women's Center advocates for the best educational and working environment for women and people of all genders at the University of Oregon.