DOCTORAL Program: Counseling Psychology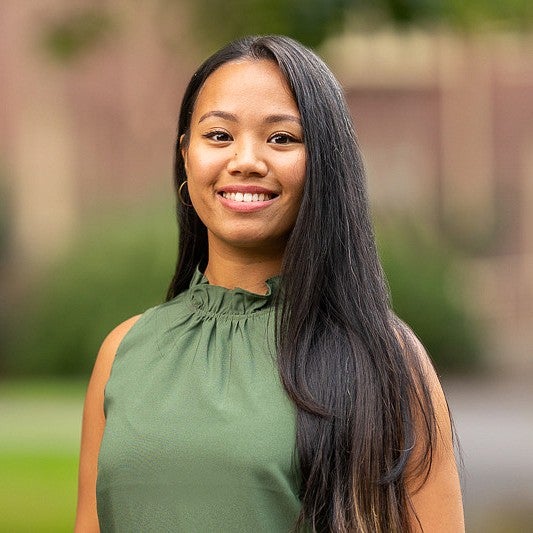 I'm a first-generation Filipino American born in the island of Saipan and raised in the Philippines and New Jersey. I've been moving between these two places every 4 years, and I cherish my roots from each place deeply.
I'm a 3rd year in the PhD in Counseling Psychology program, and I have about 3 more years to go including internship. I work closely with my advisor, Dr. Krista Chronister, on research focusing on Intimate Partner Violence (IPV) in Filipino communities. Working with communities that I closely identify with is very meaningful for me, especially because of my lived experiences of witnessing the perpetration of abuse within these communities.
Questions and Answers
What impact would you like your work to have?   
My hope is to contribute to normalizing conversations about the prevalence of IPV in our communities and to shift the dialogues to addressing abuse rather than sweeping these topics under the rug. I believe taking a strengths-based approach to ending IPV is important to empower communities and to refrain from shaming.
Where is your favorite place on campus to study or recharge?
I love the view of the campus from the 2nd floor balcony of the EMU. I think it's such a serene spot perfect for recharging and meeting up with friends. I especially enjoy gazing at the different variations of green on the trees.
Who inspires and motivates you?
My family and community, and the future generations. When I'm having an especially difficult time, I find myself thinking about who I'm representing as a woman of color and the impact that my presence in higher education can have on future generations.
How do you balance your studies with other areas of your life?
Finding a balance between grad school and personal life is challenging. Since starting grad school, one of the routines I've found to be helpful is clearing my Saturdays from any school-related work. I dedicate this day of the week to spending time with my partner, catching up on household chores, and being outdoors (if the weather permits). I think this helps me stay grounded in life outside of grad school, especially during the busiest parts of the term.
What advice do you have for future students? 
I'm very passionate about building community and supporting fellow students. Graduate school has been more doable because of the support I've received from other students and faculty/staff. I feel fortunate to be a part of several organizations including Creating Connections housed under the Division of Equity and Inclusion; the Student Advocacy and Leadership Association within the Counseling Psychology program; and the Graduate Student Advisory Council under the Division of Graduate Studies. I would definitely recommend utilizing the support provided by different departments and connecting with other students.