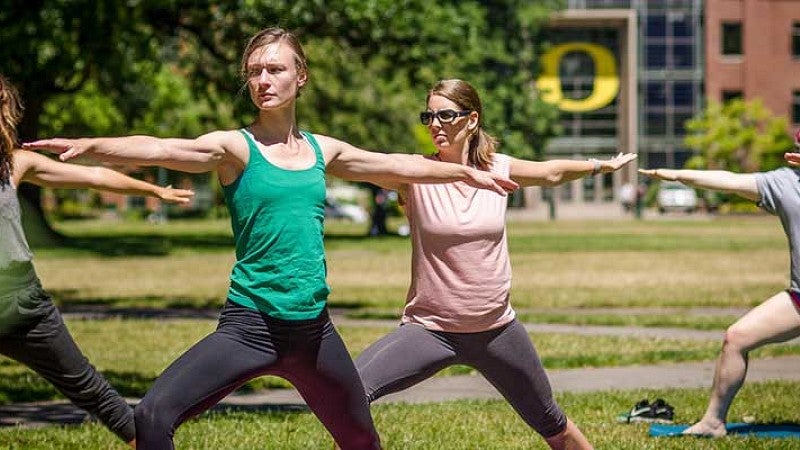 At our main campus in Eugene, the University of Oregon offers a number of resources and programs that can support your study, work, and life balance.
Graduate Student Center
The Graduate Student Center in Susan Campbell Hall is the only facility on campus dedicated to graduate students across all disciplines.
Those looking to study, read, relax or work in small groups can use or reserve the space and meet with their peers.
Graduate Student Center Reserve the Space
---
Leona Tyler Conference Room
The Leona Tyler Conference Room is, first and foremost, dedicated to graduate student oral defenses. The Tyler Room may also be reserved by students, faculty and staff for other meetings.
The space was dedicated to the university's first female dean of the Graduate School, Leona Tyler, in 1994. Tyler served as dean of the Graduate School from 1965 to 1971.
Leona Tyler Conference Room Reserve the Space
---
Student Organizations
There are a number of student groups and organizations whose primary goal is to support graduate students in a myriad of areas.
The ASUO serves as the student-led and university-recognized student government at the University of Oregon.
---
Food on Campus
There are more than 20 places to grab a coffee or a bite to eat around campus. Hours for your favorite dining venues and cafés may vary.
---
Recreation and Wellness
Membership to the UO Rec Center is included in fees for most currently enrolled students. Faculty, staff, and community members must purchase memberships to access the Rec.
The Rec provides strength and conditioning spaces, and physical activity programs such as personal and group training, PE classes, intramural sports, and youth and family programming in order to promote health, fitness, and active recreation.
Oregon's Outdoor Program cooperative is nationally recognized as the premier common adventure program in the country.
The program facilitates learning through local trips as well as far-reaching expeditions, and provides a wide range of gear rentals, resources, and clinics.
And most events and activities are family-friendly.
Stay fit, compete, meet fellow students, and have fun. There are programs for students of all skill levels.
---
Self-Care and Basic Needs Security
Connect with resources for students who are impacted or may be impacted by unmet basic needs such as food security and housing security.
We understand that each person comes to the UO with different experiences and identities and being in graduate school can be an overwhelming experience at times.
The Counseling Center is dedicated to supporting all of our students and helping them through the challenges that may arise during their time here.
We offer a variety of services including individual and group therapy, crisis support, consultation, and community referrals.
The Office of the Dean of Students offers resources for multicultural and nontraditional students, veterans, and members of the LGBTQIA+ community.
---
Safety and Security Resources
When crimes occur on campus, UOPD informs campus community members so they can take precautions to avoid becoming victim of crimes, or so they may aid in the solving of crimes.
Survivors of crimes are not responsible for their victimization, regardless of their actions. Criminals are responsible for crime.
---
Discrimination and Harassment Information
Ensuring an inclusive and welcoming campus for all is a top institutional priority.  Gender discrimination, sexual harassment, and sexual violence are prohibited at the University of Oregon by federal law and university policy. 
The Office of Investigations and Civil Rights Compliance is responsible for investigating and responding to all forms of discrimination and harassment. They maintain resources for identifying and reporting cases, including guidelines on the specific obligations of Graduate Employees.