Here we share resources and tips to help with arriving and living in the US, as well as information for families.
All Students: LIVING | UPON ARRIVAL   Additional info for: FAMILIES
Living
Upon Arrival
Upon arrival in Eugene, the weather will be in the middle of a rapid shift from the warm, sunny, but windy summer to fresh cloudy autumn. See below for the average high and low temperatures in September to guide you on what clothes to bring. From October through March, expect colder weather with frequent light rain, occasional strong rain, snow and ice. From March to June expect better weather, interrupted by occasional snow and rain.
Here is a brief list of suggested clothing or gear that you might want to bring to acclimatize to Eugene:
Waterproof shoes
Waterproof jacket
Waterproof/water resistant backpack
Umbrella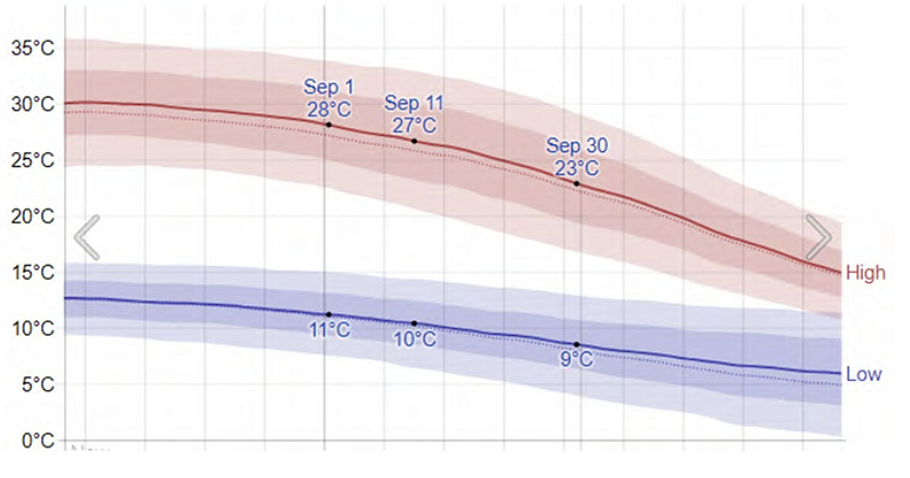 Upon arrival, follow the signs or indications to the baggage claim area to pick up your baggage. Please expect Customs and Border Protection (CBP) officers with trained dogs searching throughout the baggage claim area. At times, these searches may feel aggressive or intrusive: this is normal, as these dogs are trained to be highly sensitive.
After picking your baggage, proceed to immigration inspection. Be sure to have easy access to the following items. Do not pack these items in your checked luggage.
Passport with valid nonimmigrant visa
Original I-20 or DS-2019 form
Copies of financial documents submitted in your original application
UO admission letter
Proof of SEVIS Fee Payment
Customs Declaration Form 6059 B – info about what you are bringing to the U.S.
When you arrive at the U.S. port of entry (for example, Seattle, Portland, Los Angeles, Denver, etc.), you will meet a CBP officer, who will ask to see your passport and your I-20. The officer may ask to see the other documents and/or ask questions about:
Where you are arriving from
What other countries you visited or transited through on your way to the U.S.
What your purpose is for coming to the U.S., or more specifically what you intend to do at the University of Oregon
How long is your program
Where is your final destination today
Have you been to Oregon before
What's your address in your home country
If you are traveling with family members, please expect the CBP officer to ask them individually some questions, including:
What's your name?
Is this your mom/dad/wife/husband?
What is the name of your mom/dad/wife/husband?
Are you excited to be in the U.S.?
The officer may also ask you to be fingerprinted and/or photographed.
While this process can feel intimidating and stressful, preparing yourself for this situation will help you.
Have easy access to your documents, and be ready to provide the passport and I-20 to the CBP officer as soon as you are called to meet them.
Be ready to clearly (but briefly) answer the possible questions listed above. Do not lie or fabricate answers if you do not know.
Be patient, stay positive, and maintain calm, don't forget to treat the CBP officer with respect regardless of their temperament or how much they make you feel uncomfortable.
The CBP officer has a lot of work to do. Please avoid any unnecessary comments, jokes, and questions. The CBP officer will give your documents back once the inspection is over.
If the officer can complete inspection at this stage, they will instruct you to go to a separate location for agriculture inspection. Promptly leave the immigration inspection area as soon as you receive your documents back.
If the officer cannot determine your eligibility to enter the U.S. from the documentation you present, or requires additional information, you may be directed for additional questioning at "Secondary Inspection" at the airport.
Secondary Inspection
Secondary Inspection takes place in a separate, guarded room area where you will be asked to wait to speak individually with a more senior level CBP officer. In Secondary Inspection, you may be advised that you are not able to make any phone calls unless you are given permission by the officer — please follow their directions. U.S. laws permit the CBP officer to ask any question needed to determine your eligibility to enter the U.S., including your past travel history, financial information, information about your family members, previous travel to the U.S., what you plan to do in the future after graduating from the University of Oregon, as well as request that you provide access to your electronic devices (laptops, iPads, cellphones), email or social media accounts for review. U.S. guidance indicates that no passwords or other personal information will be retained.
While such requests are not usually made, we want to be sure that you are aware that such requests can happen.
Please note that wait times at Secondary Inspection may take many hours. If you have to wait for an extended period, Secondary Inspection offices have bathrooms/toilets and access to water. If there are any concerns, you will be advised to speak with a Secondary Inspection officer for assistance. Please note there is no way to expedite (speed up) processing at Secondary Inspection, so it is advised to remain calm. Being referred to Secondary Inspection does NOT mean that you have done anything wrong. Similar to your visa interview appointment and visa processing at the U.S. Embassy/Consulate, security procedures must be completed in order to enter the U.S. and can take some time to resolve (based on the type of procedure and number of individuals in Secondary Inspection at the time of your entry to the U.S.). We ask that you be patient. If you are waiting for an extended period of time at Secondary Inspection, you may request from the CBP officer for permission to contact anyone who may be waiting for you at the airport and/or the University of Oregon's International Students & Scholar Services.
Once you have left the immigration inspection area, follow the signs to the agriculture inspection area if you were told to do so by the CBP officer, or follow the exit signs. In order to board your connecting flight to Eugene or Portland, you may need to re-check your baggage with your airline. After that's done, go towards your gate – at the security area, you only need to show your passport and, possibly, your boarding pass. After that, you and your carry-on luggage must be screened again prior to entering your departure gate. When boarding your next flight, you will need to show only your boarding pass.
 Emergency Contacts:
International Student and Scholar Services (Monday – Friday, 8:00 – 17:00)